Our local homeschooling conference is this weekend. This will be the first time since my oldest was 4 that I will not attend! It is kind of sad in a way, but I did get to go to our state conference, and I really don't need anything else... plus, instead of going, we shipped off our beloved chilies to a friend's house, and are enjoying the time alone!!!! WOW- that RARELY happens!
It seems that conference times bring planning times, and there is a lot of that going on with my friends, and in the blogging world. So, I thought I'd share what we are doing around here.
I've put the girls together. They are in K and 1st...
Bible/Hymns/Scripture Memory
My one main goal this year has been to have a worship/Bible study time. The past few years we have attended
Community Bible Study
which I HIGHLY recommend for a great in-depth Bible study, a wonderful homeschool program, and kids program. BUT, with my work schedule, we struggle already to get our school work done, so one more day out of the house just isn't a good idea for us. SO, I searched high and low for something my 6th grader reading on a 9-10th grade level could share with my K/1st graders.... I didn't find much. What I did find was
Bible Study Guide for All Ages
. It was really inexpensive, so I figured that if we don't like it, I haven't wasted too much money. It is a little childish for my 6th grader, so he does all the oral readings for us. AND, what I've noticed that is just the added benefit, is that he is helping the girls, we have more community in our family, and the kids are growing closer. We also use a Scripture Memory box/system like the one described
here.
We put most of our verses to music- some of our favorite Veggie Tale songs, nursery rhymes, hymns, etc. One day I'll have to blog those to share with you all! And, we do a hymn study using 101 Hymn Stories by Kenneth Osbeck, and following the monthly schedule set out by
????
the url is not on my printout and after a long time of searching, I am unable to find it
-
though we don't do the handwriting with it.
Math
Right Start Mathematics
*my son absolutely loved Right Start, and
I
even learned so much the first time through. He is taking very slowly the Geometric Approach level. It will be interesting to see what I learn this time around with the girls. We actually have 2-3 lessons in level A to finish up, then on to level B. Baby T may need some remediation, but she seems to be catching up.
Bean Boy is also using
Life With Fred Fractions
and will have that finished next week already and be on to Decimals.... He was having problems with these in his day to day work. Now I will
never be allowed
to leave the Life with Fred series....
He LOVES them!!!!
Reading
My other BIG goal is to get both of the girls reading mostly independently. Little Bit has
really
struggled in this area. Baby T has really excelled in this area. We have used an eclectic approach to this to try to find ways to help Lydia. I have used
Spell to Write and Read
,
Simply Charlotte Mason's Delightful Readin
g
, flashcards, and just any beginner book we can put our hands on. Unfortunately, Little Bit still hates it... I keep praying that will change!
Science
If we could
just
do science, I would be a happy momma! I'd love to do daily
nature study
. I would love to get through
all
of
Apologia's
science curricula, and probably their other stuff too. I LOVE, LOVE, LOVE their books. This year we are doing
Land Animals of the Sixth Day
.
History
I truly have a love/hate relationship with history. I LOVE to study it, read about it, teach it.... but I know so little of it, it makes the teaching part difficult. Since we are in
survival mode
this year, I went with
Story of the World
, Level 3. Both Little Bit and Bean Boy are listening to the CDs and doing some workbook pages, and such. We haven't really done any of the projects, though I would love to extend our days to 50 hour days so I could do more of this too! Baby T pretty much does gymnastics as quietly as she can while the others are listening...
Computer Programming
Despite my having started a blog, and what you may think, my poor kids have been cursed with having parents that are technological idiots! Seriously!! If you're not sure, look at my posts that have videos in them... I digress. I am confident one day my son will take over as our technological expert! He wanted to learn about programming, so I found
KidCoder
when we were at our state conference. He loves it, and is motivated to keep going, learning independently. I did ask the vendor, and yes, he can call or email them for help so I don't have to learn this! This makes me happy!!! He is motivated, because in the 2nd book, he will learn to program games! Happy all around!
I also read aloud from various books. Right now, Bean Boy and I are finishing up a book that I can't wait to be done with....Robert Louis Stevenson's Kidnapped. Ugh.... I don't like it!!! Anyway, as soon as we are done, we are going to read.....drumroll please!!! The Hobbit! We are both very excited about that... then I will unleash him on the trilogy on his own!
The girls and I are reading many short, fun books, as well as the Thorton Burgess Bird Book for Children. We finished his Animal Stories and really loved it!
We do practice handwriting daily, but usually just from printouts we find on the web, or cards we are making for friends, or something to keep us practicing....
Well, I do believe that about sums it up. You can read about our Olympic study
here
.
Link-up here with your plans in the curricula corner, so I (and others) can get more ideas!
I'm linking up to Weird Unsocialized Homeschoolers too!
If you use Apologia, check out Sarah's blog. She has linked up with other Apologia users to help share ideas...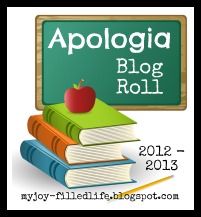 Also linking up with iHomeschoolNetwork